KEYNOTE SPEAKERS




Jarrad Harford - Foster School of Business - University of Washington, USA

Talk Title:

TBA

Short Bio:

Jarrad Harford is the Paul Pigott - PACCAR Professor of Finance and Chair of the Finance and Business Economics Department at the University of Washington's Foster School of Business. He received his PhD in Finance with a minor in Organizations and Markets from the University of Rochester. His teaching focuses on core finance and acquisition analysis.

Professor Harford currently serves as a Managing Editor of the Journal of Financial and Quantitative Analysis and as an Associate Editor for the Journal of Financial Economics, and the Journal of Corporate Finance. His primary research areas are mergers and acquisitions, corporate governance and payout policy, and he has published more than 20 papers on these topics in top finance journals. In 2017, Pearson-Prentice Hall published the fourth edition of an undergraduate finance textbook co-authored by Prof. Harford.

---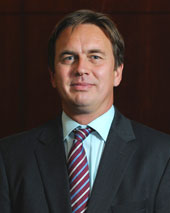 Kris Jacobs - C.T. Bauer College of Business - University of Houston, USA

Talk Title:

TBA

Short Bio:

TBA