KEYNOTE SPEAKERS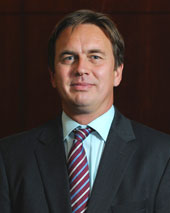 Kris Jacobs - C.T. Bauer College of Business - University of Houston, USA

Date: Monday, June 25, 2018
Time: 1:15 - 2:00 p.m.
Venue: Novotel Budapest City Hotel - Bartok II

Talk Title:

"Estimating Option Pricing Models: Existing Challenges and New Approaches"

Abstract:

Estimating option valuation models is challenging due to the complexity of the models and the richness of the available option data. Many existing studies therefore limit the time-series dimension and especially the cross-sectional dimension of the option data. This complicates the identification of model parameters from option data, especially the parameters characterizing the tails of the distribution. We propose new techniques to overcome these constraints, based on particle filtering with particle weights based on model-implied spot volatilities rather than model prices. We also use his approach to estimate option valuation models based on returns and options jointly, which allows us to identify the pricing kernel.

Short Bio:

Kris Jacobs is the Bauer Professor of Finance at the C.T Bauer College of Business at the University of Houston. He received his PhD in Economics from the University of Pittsburgh and obtained undergraduate and master's degrees in economics at the Katholieke Universiteit Leuven in his native Belgium. At the University of Houston, he teaches courses in investments, capital markets, and portfolio management in the masters programs and a course in empirical asset pricing in the PhD program.

Professor Jacobs' primary research area is empirical asset pricing. He has extensively published in top journals in finance and economics on a variety of topics, including option valuation models, the performance of equilibrium asset pricing models, the cross-section of stock returns, models for fixed-income securities, credit risk and credit default swaps, international asset allocation, volatility, and financial econometrics. He currently serves as an Associate Editor for the Journal of Applied Econometrics.

---


Jarrad Harford - Foster School of Business - University of Washington, USA

Date: Tuesday, June 26, 2018
Time: 1:15 - 2:15 p.m.
Venue: Novotel Budapest City Hotel - Bartok II

Talk Title:

"Why Mergers Matter: The Broader Impact of Mergers"

Abstract:

This talk starts with a brief review of the highlights of what four decades of academic study of mergers has taught us and then moves on to more recent work studying the impact of mergers more broadly. This includes how clusters of mergers activity affect bargaining power within the supply chain, creating ripples of follow-on activity throughout the economy, how mergers of key players in an industry alter the landscape for their competitors and trading partners, forcing them to react, how trade flows across borders impact and are impacted by merger activity, and finally how the ownership structure of firms is partly an outcome of the mergers those firms have done over time.

Short Bio:

Jarrad Harford is the Paul Pigott - PACCAR Professor of Finance and Chair of the Finance and Business Economics Department at the University of Washington's Foster School of Business. He received his PhD in Finance with a minor in Organizations and Markets from the University of Rochester. His teaching focuses on core finance and acquisition analysis.

Professor Harford currently serves as a Managing Editor of the Journal of Financial and Quantitative Analysis and as an Associate Editor for the Journal of Financial Economics, and the Journal of Corporate Finance. His primary research areas are mergers and acquisitions, corporate governance and payout policy, and he has published more than 20 papers on these topics in top finance journals. In 2017, Pearson-Prentice Hall published the fourth edition of an undergraduate finance textbook co-authored by Prof. Harford.